Climate Update from Climate for Change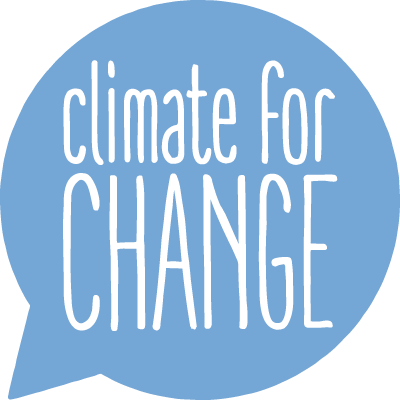 Welcome to Climate for Change's climate update! They've compiled some of the most important climate news and inspiration, told in five parts, to help you join the dots and understand the full story of climate change.
At the end of this update are always a number of climate actions you can take. If you don't have time to do them now, we suggest taking a moment now & putting aside time in you diary over the weekend to action them. The Sustainable Living Festival is on in two weekend's time and C4Cers are involved in multiple events, including a terrific collaboration with Melbourne Playback at Trades Hall - check out Section 5 for details!

Being informed about climate change is important, and sharing what you know with others is even more powerful. Share the articles that move you on social media and make a point of talking about the things you learn in this update, even if just a passing comment. Every conversation matters. You can also like our Climate for Changes Facebook page and make a point of sharing something from it regularly.
1. Our climate is changing, with devastating consequences now and in the immediate future.
Australia's horror fire season isn't over yet, with extreme fire conditions forecast for Canberra, South Australia and East Gippsland this weekend. Massive fires were visible from Canberra city this week:
Economists now estimate the true cost of this summer's fires will approach $100 billion – Australia's costliest-ever natural disaster.
And, as the bushfire season gets longer and more intense, Australians have been warned they can expect more expensive electricity and more blackouts.
Leading climate expert Michael Mann has warned Australians could soon join the ranks of climate refugees as inland conditions become hotter and drier.
Climate change has cut Australian farm profits by an average of 22% in the past two decades, according to a new government report.
The Reserve Bank of Australia, the IMF and the Bank for International Settlements have all warned a climate-induced financial disaster is inevitable, with the RBA urging the government to "mobilise all forces".
And finally, scientists fear wildfires could flip the Amazon from a carbon sink to a carbon source by 2050.
2. Solutions are available and affordable – many are already being rolled out around the world.
State Liberal politicians are beginning to call for a greater focus on meaningful climate solutions:
○ Victorian Opposition leader Michael O'Brien has called on PM Scott Morrison to adopt more ambitious emissions targets, though he stopped short of endorsing Victorian Labor's plan for net-zero emissions by 2050.
○ New Tasmanian Premier Peter Guttwein has appointed himself the state's first-ever Liberal Minister for Climate Change, and called for stronger action from the federal government.
○ And NSW Energy Minister Matt Kean has hinted the state's first-ever EV strategy will be unveiled soon.
Boris Johnson has flagged a complete turn away from coal for the UK, including stopping funding for coal projects overseas (however, his Conservative government still continues to pour money into oil & gas projects).
Microsoft wants to capture all the carbon dioxide it's ever emitted, committing to becoming a carbon-negative company by 2030.
European steel giant SSAB will begin producing fossil fuel-free steel in 2026, nearly a decade ahead of schedule. Making steel with hydrogen will slash the total emissions of Finland by 7% and Sweden by 10%.
Momentum for the EU's proposed "carbon border tax" is ramping up. The proposal will slap new taxes on imports from carbon-intensive economies...like Australia.
And finally, the ABC has come up with a new tool: what would you spend to prevent climate damage, and what solutions could your money buy? Explore some of the possibilities here.
3. But people with the power to make the changes we need aren't acting fast enough – in fact, some are actively holding us back.
Mining giant BHP complained that the bushfires have hurt Australian coal production this summer. You really can't make this stuff up!
Although he attended the Davos summit, Finance Minister Mathias Cormann was not invited to speak at or even attend any of the climate-related sessions, including an emergency meeting on Australia's bushfires.
Energy Minister Angus Taylor has claimed credit for a record amount of renewable installations, and confirmed Australia is on track to reach 50% renewables by 2030...the same % described as "economy-wrecking" during the election campaign!
This comes as energy insiders warn investments in renewable energy have fallen off a cliff due to policy uncertainty. Investment in utility-scale wind and solar fell a staggering 56% last year compared to 2018.
In the US, a federal appeals court has thrown out the children's climate case, concluding that it is the role of elected representatives to take action on climate. It's not over though, with the decision set to be taken to the next level of the judiciary.
And finally, a new bill in Indiana would require the Trump administration's sign-off on closing coal power plants, or even just reducing operations.
4. All over the world, people from all walks of life are building a movement for the changes we need.
The so-called "Quiet Australians" – from retirees to young parents – are beginning to speak up on climate. Meet some of the newest members of the climate movement thanks to the 7:30 Report.
Greenpeace set up a new "melting tennis ball" sculpture in Fed Square this week to highlight the dangers climate change will bring to players competing in the Australian Open. Volunteers also staged a peaceful, unobstructive demonstration at Melbourne Park.
Actress Jane Fonda has a blunt message for American banking giant Chase: end investment in fossil fuels or we'll take our money elsewhere. The new video is part of the Stop the Money Pipeline campaign.
A week after being threatened with dismissal, hundreds of Amazon workers have publicly spoken out against the company's climate policy.
Iowa farmer Matt Russell is credited with creating such a buzz around climate issues as Democratic presidential hopefuls continue their campaigns. Russell has helped make regenerative agriculture and carbon farming key planks of Democratic climate policy.
The British Medical Journal has been praised for leading a new divestment campaign for health professionals and organisations.
And finally, Japan's second-biggest newspaper (and one of the biggest in the world) has urged the country to stop burning coal in a powerful editorial.
5. But it's a race against time. We need everyone. Here's what you can do to join them:
STAND UP:
○ In the wake of this summer's fire crisis and with Zali Steggall's climate change bill soon to hit parliament, now is a crucial time to get your local MP on board for stronger, bipartisan climate action. C4C MPEG leader Sue Dwyer has created a brilliant email template for you to your MP. It only takes a minute to send, or use Sue's words as inspiration to craft your own unique message.
○ Better yet, make this the month you take the plunge and visit your MP! The MPEG groups have hit the ground running in 2020 with heaps of visits already locked in. Find your local group here.


GET INFORMED:

○ Make sure you get along to at least one speaker panel or info session at SLF. It's a who's who of climate action and there's so many topics covered: from nonviolent action & emergency declarations to the effects of climate change on coffee and health. Check out the full program here.
"If not us, then who? If not now, then when?"
(Hillel the Elder, 1st Century AD)
Until next time,

Julian Atchison, on behalf of the team at Climate for Change.
http://www.climateforchange.org.au/
You can subscribe to this newsletter here.