What is MBSR?
Mindfulness Based Stress Reduction (MBSR) is the original evidence-based, user-friendly program that brings the principles of mindfulness meditation into everyday life by teaching specific skills and practices to help break cycles of anxiety, stress, unhappiness and exhaustion.
Openground is proud to be endorsed by Emeritus Professor Jon Kabat-Zinn – who developed MBSR at the University of Massachusetts Medical School in 1979 for people suffering chronic and acute stress, chronic pain and illness, and associated anxiety and depression. As seen on ABC Catalyst TV.
What does it involve?

an individual phone interview, and ongoing support from your teacher
a 2.5 hour class, over eight weeks, plus one full retreat day 

mindfulness meditation and body awareness training 

an exploration of your own patterns and how to transform them 

scientific rationale for the practice 

access to Openground audio app for practice and a 100 page course book
Come and see how this inspiring course can help you develop more mental, emotional, physical and psychological resilience and well-being.
Book early as our Brisbane courses fill up quickly.
Do be in touch if you need a discount.
Flexible payment options:
To make the decision to register for the Sunshine coast mindfulness course easier, we've introduced a very flexible payment policy! You can register now with just a deposit of $50, come to the first session to get a taste of the course, receive all the course materials, and meet the facilitator and the other people interested in doing the course. You then have until the second session to try out the mindfulness practices and read the course book, and decide if you want to continue with the course. When you do continue, you will receive an invoice for the remainder of the course fee which you can pay off either in one lump sum or in weekly or fortnightly instalments. Full fee $425/$350 concession.
Where can I do MBSR in the Sunshine Coast
Buderim
Bloomhill Cancer Care: 58 Ballinger Rd, Buderim QLD 4556
Meet our Sunshine Coast mindfulness teacher
Astrid de Ruiter
MSc (Physics), Grad Dip Counseling, Dip Holistic Counseling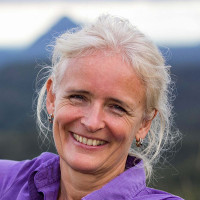 Astrid is a certified MBSR teacher, with the Centre of Mindfulness, UMass having trained extensively with them and Openground. She is a counsellor/ psychotherapist and has a background in science (physics). She has been teaching mindfulness to groups and individuals since 2006, to both clinical and non-clinical populations. Astrid's personal practice of mindfulness spans a period of over 15 years within various Insight meditation traditions. Astrid teaches MBSR courses in Brisbane and on the Sunshine Coast. She brings a gentle yet lively and engaging presence to her teaching of mindfulness. She is strongly committed to helping participants develop their own relationship to mindfulness and mindfulness practice, so that it is personally and professionally relevant. She is gifted in her capacity to balance theory and practice, and to make the learning journey an inspiring and productive one.
Why learn with Openground?
Personal attention and skilled teaching
Learning mindfulness with an experienced teacher can't be compared with using an app. We take a genuine, personal approach and our highly trained and dedicated teachers go the extra mile to help you engage with your practice in ways that can bring real transformation.
Evidence-based transformation
MBSR is an authentic, evidence-based program of mindfulness training, grounded in 39 years of research. Unlike many shorter mindfulness courses, which have no evidence of benefit, MBSR is globally recognised as the gold standard for mental and physical health in the field.
Excellent value
Our immersive, eight-week courses include 28 hours of personal mindfulness training. Many short courses only give you a taste of mindfulness, and are actually more expensive than MBSR on an hourly rate basis. Our courses offer significant value, and we can also arrange serious discounts if you need a helping hand.
Openground for all
We do like to offer discounts to Health Care card holders and others in genuine financial difficulty (eg for those with disability, unemployment, chronic pain, students with very little support from their parents, or other constricting circumstances). To keep the books balanced, we appreciate you paying the full fee if you can afford it! In some locations you can book in early to get a significant early bird rate.

Sunshine Coast Courses
Join our Sunshine Coast mindfulness courses in Buderim.